Outdoor living space is among our favorite places to hang out and relax. It is where we entertain guests on a beautiful summer day. We sit out there to barbeque, take a swim, or read in the cool of the day. We may also get peaceful pleasure tending to our gardens or sitting on the front porch to watch a sunset. It is only fitting that most homeowners enjoy transforming their outdoor areas into entire living spaces. This can include outdoor living rooms, kitchens, play areas, and more.
Let's look at several options you could consider to create an amazing outdoor space that wows your guests!
Patio Furniture Ideas
You have many options when designing an outdoor living space. However, you should keep in mind your budget and your overall space before embarking on this journey. As fun as decorating can be, it can easily throw you out of budget if you do not have a plan in place.
Every backyard should have outdoor furniture, especially if you are entertaining guests and family. You can find many different varieties of patio furniture and outdoor living room furniture that are affordable, comfortable, and aesthetically pleasing.
Patio Set
Patio sets are a great addition to any outdoor setting. Generally, the cushions are weather-resistant and provide comfortable seating for multiple people. Many even have a loveseat with chairs and tempered glass-top coffee tables.
Patio Rocking Chair
Nothing says maximum comfort like a rocking chair with thick removable, washable weatherproof cushions. A traditional rocking chair is great for the front porch and the back deck.
Patio Swing Canopy Hammock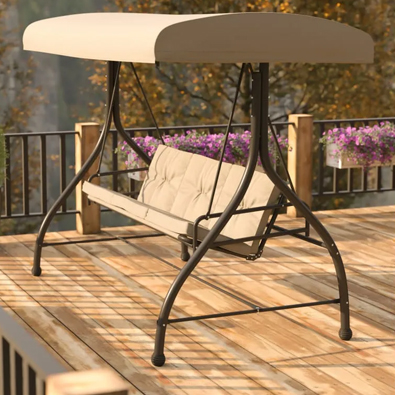 Hammocks are a lot of fun and provide ample relaxation. This hammock is also a patio swing and comes with a canopy to protect from the harsh sun or sudden changes in the weather. The best part is its ability to be converted from a hammock to a swing. The back cushions are removable, making the transition easy.
Covered Spaces
If you are searching for a great way to provide a covered area, a pop up tent might be perfect. They can create a cozy, open-air atmosphere that is great for providing necessary shade. Lights (like sconces) can be hung from the tent, adding to the ambiance and extending your time in the backyard.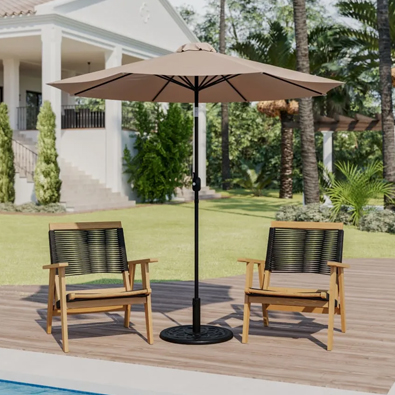 If you do not need as much covered space, or need individual shade, consider a tilt umbrella and base. A tilt umbrella is easily moved from place to place and can provide shade for small areas.
Outdoor Heating and Lighting Ideas
Outdoor Lighting
Outdoor lighting is a wonderful way to update the overall aesthetic. You could strategically place solar lighting around your area to give a party -like vibe and through the landscaping to accent the flower beds, pool, and house. The extra lights not only allow you to stay out past dark, but they can also create a warm and inviting atmosphere.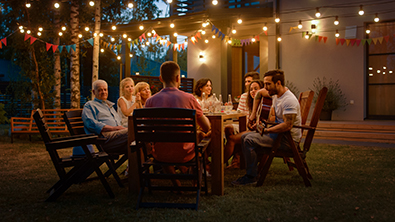 String lighting is great since they can be hung in various locations around your patio, your tent, or grouped together in one spot.
Outdoor Heating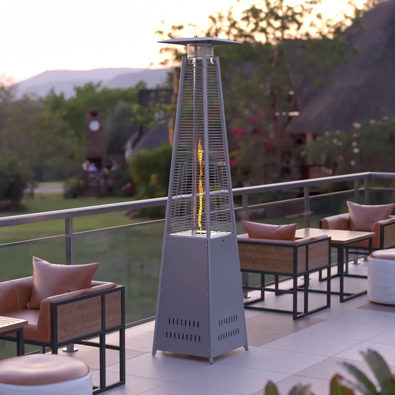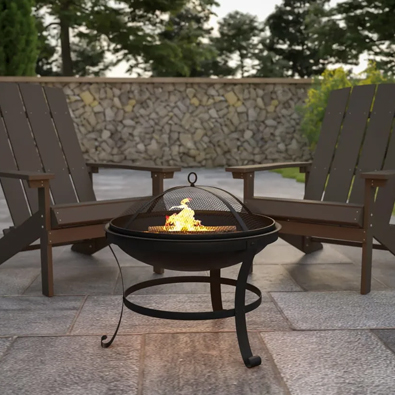 If you want to create a focal point for your patio or backyard, or if you want to warm your space, you could consider outdoor heating like a patio heater or fire pit. People enjoy bonfires throughout the summer, and they are a great way to get together and bond. The thing about both the patio heater and fire pit is you can place them anywhere needed. If you want to bring the party back closer to the home, a firepit might be a great option.
Outdoor Cooking
Food naturally tastes better cooked outside from the BBQ on the patio or deck. From electric, charcoal and gas there are many grill choices to accommodate you budget and cooking style.
Refrigeration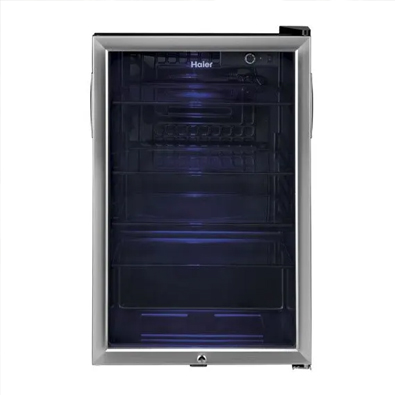 When you need an alternative option to a full-size refrigerator to keep your extra perishable foods cold, a mini-fridge or compact refrigerator may be your best bet. A compact fridge is a great way to keep condiments and drinks cold.
Backyard Design Ideas
Go Rustic!
Some backyards just have that rustic, natural appeal, and you can add to it by installing a flagstone walkway or patio. These irregular stone tiles and plants or other natural beauty create an ambiance that you and your guests will love for years to come.
Add a Fountain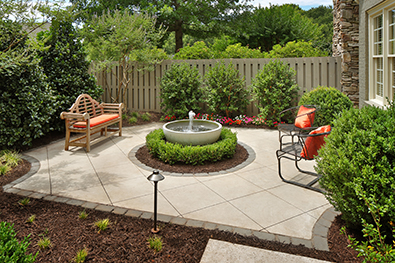 All the lights, plants, flowers, and colors you love speak to only a few senses. A fountain might be what is missing from the picture. Not only are fountains beautiful, but they can also amp up the comfort factor of your backyard. The tricking or moving water sound will certainly set the mood and wow your guests even more.
Backyard entertaining is a timeless way many choose to spend time with their friends or even make new ones. Food, fun, and relaxation combine to create a perfect summer hotspot. You can add in any of these extra pieces to create the ultimate outdoor living space.