It's finally springtime! The birds are singing, and the flowers are starting to bloom. This is the time of year when many people like to start spring cleaning.
Did you know that decluttering, organizing, and overall cleaning can relieve stress, boost energy, and actually lessen seasonal allergies? In addition to all these added benefits, a clean house can increase your focus and productivity.
But where do you start? What needs to get done? Let's start by pre-cleaning.
Spring Pre-cleaning Tips
If you're looking for some ideas on cleaning your home, you've come to the right place. We have put together a few pre-cleaning tips to help you get your home clean and organized in no time.
Clean one room at a time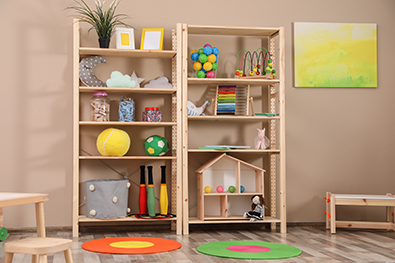 Often it can be overwhelming when you have so many areas that need to be cleaned. The best, most effective way to tackle this job and lessen the anxiety is to take one room at a time. One room at a time will help you stay productive.
Start by creating a cleaning checklist for every room to help you stay organized and on track. If you have cleaned a specific room recently, add that room to the end of the list. First, focus on the higher traffic or messier rooms that winter hit the hardest.
Get the Family Involved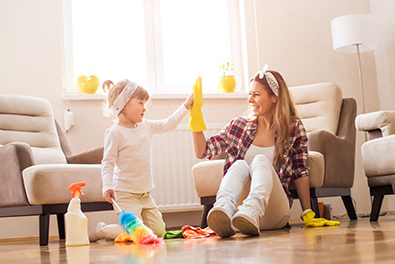 Spring cleaning chores can and should be a family affair. Assign age-appropriate cleaning tasks to everyone in the house. Add some music and snacks to keep the momentum throughout the day. A great tip is to make a game out of finding loose change. Whoever finds the most change gets to keep it as a reward! Any paper money found could go into a vacation savings jar or even a family dinner date.
Get Organized to Clear the Clutter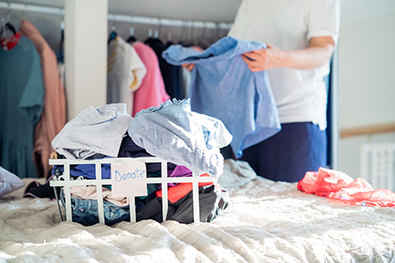 The biggest goal of spring cleaning is to get rid of clutter. First, identify the most problematic areas. Then determine why these areas tend to be the messiest and find a solution. For example, if your kitchen table seems to be the central depository of mail, packages, etc., invest in a few hanging baskets to organize the clutter. After identifying your problem zones in the room you are working on, sort everything into four piles - store it, trash it, give it, put it away. A great rule of thumb is that you probably won't ever use it if you have not seen it or used it within the last year. Have a plan for where the items should go if it is worth saving, whether it be a charity or a yard sale.
Seasonal Chores Should Come First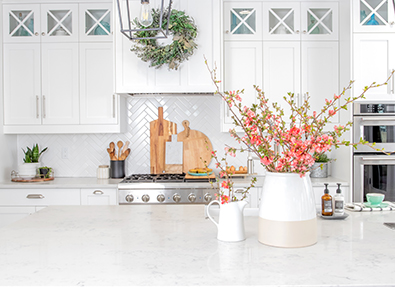 Many chores need to be done seasonally, especially in preparation for summer and winter. Tackle the summer chores in the spring, and make them a spring cleaning routine. This is a great time to store all winter clothing, pull out the summer clothes, put away all winter decorations, and bring out the spring flower arrangements!
Now you are ready to get down and dirty and clean your house. Let's take each room one by one—time to open the windows, let in the fresh air, and work.
Gather Your Cleaning Supplies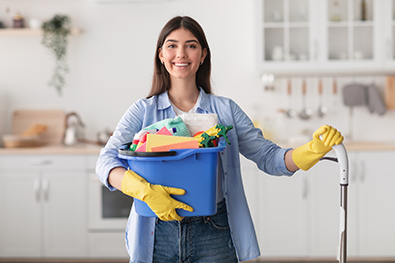 Make sure to read the instructions on all cleaning products to ensure you are using them appropriately. You may want to consider all-natural products such as vinegar, baking soda, lemon juice, club soda, and good old-fashioned water. Don't forget essential oils also act as disinfectants, such as tea tree, lemon, and rosemary oils. Gather all the cleaning supplies and tools you need. Here are a few suggestions.
• Vacuum
• Steam cleaner for hardwood floors
• Broom and dustpan
• Mop
• Trashbags
• Window cleaner
• An all-purpose cleaner (non-abrasive)
• Tile cleaner
• Sanitizers and bleach
• Paper towels
• Warm soapy water in a bucket
• Sponge
• Squeegee
Get a Jumpstart on Deep Cleaning Now That You Have Your Cleaning Supplies.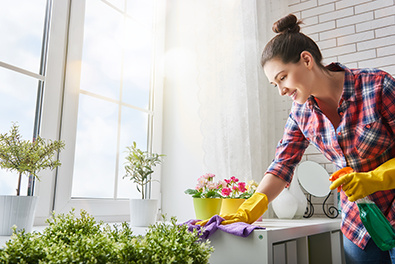 Spring Cleaning Checklist
Dust First
Remember to start with the highest surfaces first. You will be ready to clean the floor last as the last finishing touch by starting at the highest point and working your way down.
• Ceilings and wall corners
• Light fixtures
• Crown molding
• Ceiling fans
• Shelving
• Bookcases
• Mirrors and wall hangings
• Lamps and window shades or blinds
• Computers, stereos, and all electronics
This is the perfect time to clean the dust from the air vents and change the filters.
Clean All Hard Surfaces
Wipe down walls, doors, light switches, and outlets. Watch for marks on walls and baseboards; make a note to come back and touch up with paint or stain remover. Clean countertops and tables. Clean inside windows and window frames and polish wood furniture with a quality wood cleaner.
Soft Surfaces
You can save time by starting the laundry by washing curtains, removable furniture covers, throw pillows, and floor rugs while cleaning other areas of the house. Now is also a great time to condition leather furniture. Leather furniture cleaner helps protect your furniture and restore shine.
Now, let's break cleaning down by room.
Living Room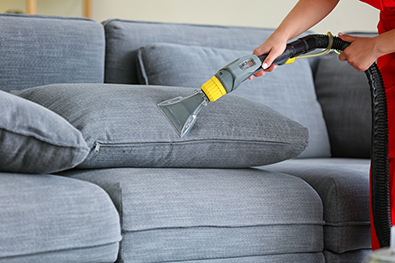 Start by putting away all things not needed. Then focus on cleaning the couch and other living room furniture, including coffee and end tables, bookcases, mantles, etc.
Clean all ceiling fans, light fixtures, lamps, miniblinds and curtains, and wash down the walls.
Kitchen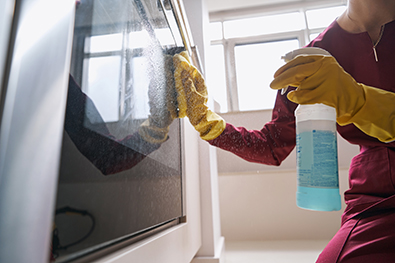 Bedroom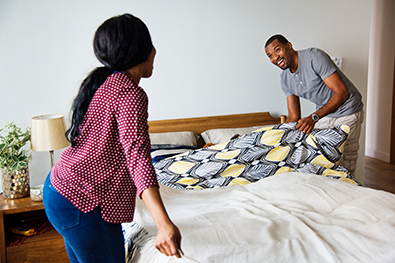 Bathroom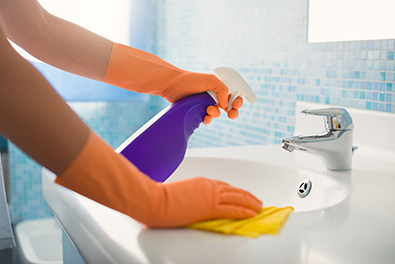 Laundry Room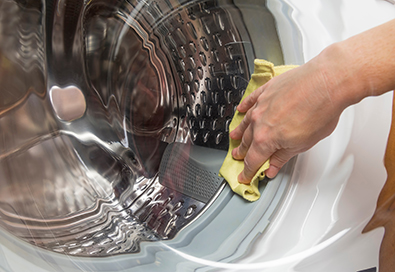 Don't forget the washing machine and dryer. Run a sanitize cycle on the washer. If you do not have a sanitize cycle, you can use white vinegar and run a small wash cycle with hot water. Ensure to clean behind the washer and dryer, and clean the dryer exhaust vent and lint trap.
Floors
Now you are ready to tackle the floors. If you have hard surface floors, make sure to sweep thoroughly. You can use a steam cleaner specifically for hard surface floors or mop with an appropriate cleaning solution. Make sure you get under cabinets and along the edges and corners.
If you have carpet, vacuum your entire floor twice. If you find stains, you can either shampoo the carpet yourself or hire a carpet cleaning professional.
Don't forget to wash your throw rugs, runners, and doormat.
Don't Forget to Deep Spring Clean Outside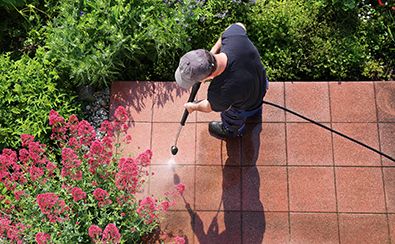 Tackling outside cleaning chores may sound daunting. With a little bit of elbow grease and time, your outside can sparkle like the inside of your home.
• Grill
• Patio furniture
• Clean windows from the outside
• Clean the screen door
• Power wash hard surfaces like walkways and the outside of the house
• Touch up paint
• Clear debris from the guttering
• Remove broken limbs, leaves and dead plants
• Garage door track
We all have our own cleaning routine, but sometimes having a checklist will help keep you on track. Deep cleaning and decluttering in the spring and fall can cut down your daily cleaning routine. The best part of deep seasonal cleaning is taking stock of what you no longer need or items you need to replace.
Download your deep cleaning checklist here
FAQ
How to get burnt food out of an oven?
If your oven does not have automatic clean, you can clean your oven with baking soda, dish soap, a sponge and water. Make a paste out of the three and let sit on the area. Wash it off. If this does not help, you may be able to use an oven cleaner.
What is an easy way to clean a ceiling fan?
Take a pillowcase and slide the blades inside the case. Wipe in a downward motion to trap the dirt inside the pillowcase.
How to deep clean a stainless-steel sink?
Dust your sink with flour or baking soda, and then wipe it down with a microfiber cloth. The flour helps remove food and stains naturally.
How to clean a garbage disposal?
You can use a toothbrush with soap and water to clean the splash guard and inside. Ensure the garbage disposal is unplugged before attempting to clean for safety precautions. Once you have scrubbed the disposal, you can take a lemon or orange peel and drop it into the disposal. White vinegar works great for disinfectant and odor control. Plug it in and turn the disposal on while running water.
How to remove food from a microwave?
You can spray a water and vinegar mixture inside the microwave and let sit for a few seconds. Turn on the microwave for 5-7 minutes and then wipe clean.