Rent-To-Own TVs
Today's high-definition (HD) TVs offer pictures so clear and vibrant you'd swear you were right in the middle of the action. Conn's HomePlus can help make sure you don't miss out on any of it. Even if you don't have the cash on hand to buy a new TV, Conn's HomePlus can help you get convenient, easy-to-understand financing.
We can connect you with credit that will put you on track to bring home the TV that will maximize your entertainment options. Before considering a rent-to-own TV, browse the selection at Conn's HomePlus. You could be approved and on your way to shopping for a new TV instantly.*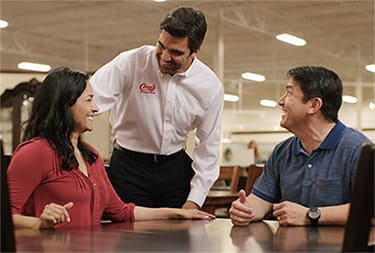 TVs We Offer
Each new generation of TVs brings something new to experience, and you won't be left behind the curve at Conn's HomePlus. Our financing options make it easy for you to get all of the newest types of TVs, including:
A Better Alternative Than Rent-To-Own TV Stores
If you're having a hard time getting the money together for your new TV, you might think that your only option is to find a rent-to-own TV online or visit a store that specializes in rent to own. The problem with these offers is that they're often confusing. Trying to find a rent-to-own TV with no credit check can send you down a long and winding road of options with no clear idea of what the best deal would be.
That's not an issue with the Conn's HomePlus Financing option from Conn's. Through the Conn's HomePlus Financing program, we'll do everything we can to get you financed — no matter what kind of credit history you have. Unlike rent-to-own offers, Conn's HomePlus Financing can have you qualified* for up to $5,000 in financing instantly, with the possibility of 0 percent interest for 12 months. Plus, unlike typical rent-to-own stores, the Conn's HomePlus Financing program doesn't limit you to a few select brands. Instead, you'll be able to choose from our entire stock of name-brand TVs and electronics.
Have you been looking into rental TVs online or other types of rent-to-own offers and found yourself more confused than you were before? Come to Conn's HomePlus and discover how our Conn's HomePlus Financing program is the better alternative to finance your new TV or other electronics today!
PREQUALIFY NOW
*Online prequalification only. Subject to credit approval