RENT-TO-OWN FURNITURE
No home is complete without furniture – but what if you're too strapped for cash to buy something right away? Do you have to wait, or should you go with rent-to-own furniture stores? Is rent-to-own furniture a no-credit-needed option that will allow you to get what you need when you need it?
The good news is, if you've been looking at rent-to-own furniture online, there's another option: Through the Conn's HomePlus Financing program at Conn's HomePlus, you may be able to qualify for financing to buy furniture, even if you've been turned down elsewhere. We do everything possible to get you the furniture financing you need.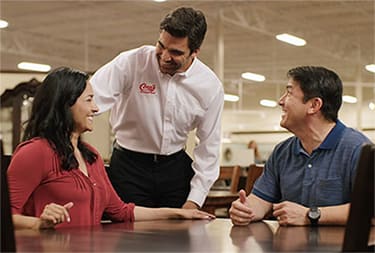 An Alternative to Rent-To-Own Furniture Online
If you're in the market for affordable rent-to-own furniture – from rent-to-own living room furniture to rent-to-own bedroom furniture – you know navigating your options can be tricky. How do you know where to buy? Are the best rent-to-own furniture companies the smartest options when you can't pay cash? When does it make more sense to keep looking for financing? For all these questions, the answer is Conn's HomePlus. Our Conn's HomePlus Financing program can help you get financing for furniture and beyond.
Even if you aren't approved for Conn's HomePlus Financing, you can lease furniture, mattresses, appliances, electronics and more through YES LEASE™, a lease-to-own program powered by American First Finance.
Large Furniture Selection
Whatever you're looking for, explore our online selection to see the many options at Conn's HomePlus! From living room furniture to mattresses and bedroom furniture, we've got you covered. Visit our furniture section to see more of what we carry in:
How to Qualify for Conn's HomePlus Financing
Before you choose rent-to-own furniture, consider Conn's HomePlus Financing with Conn's. This exclusive in-store financing program makes it easier than ever to get the furniture you need, even if you've been turned down other places. We've already said yes to 5 million other customers – you could be next! START NOW, and you could be qualified for up to $5,000 to shop for new furniture instantly!*
PREQUALIFY NOW
*Online prequalification only. Subject to credit approval