Rent-to-Own Computers
In today's society, it's hard to get by without a computer — whether it's because you need to contact someone, find answers to questions, complete homework for school or something else. If buying a new computer isn't in your budget right now but you know you need one, you may be interested in rent-to-own computers. While it's true that renting a computer can help you get the technology you need in a hurry, that doesn't mean it is your best option.
Conn's HomePlus is here to give you an even better solution than rent-to-own computers. Through our Conn's HomePlus Financing program, we help you get financing right away, even if you've been turned down for financing elsewhere. We provide more convenient way to get the computer financing you need.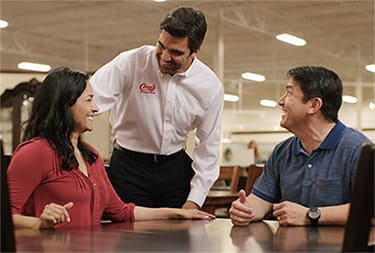 Types of Computers Available at Conn's HomePlus
Whether you're looking for a new desktop computer or a laptop you can take with you on the go, you can find it at Conn's HomePlus. Our catalog of computers has a variety of products from top brands, including:
The Better Way to Get the Computer You Need
When you're in the market for a new computer but don't have immediate cash flow to buy one, you don't have to go with rent-to-own computers. Rent-to-own programs are notoriously confusing and hard to navigate, and they can often work out to be less than the best deal for you. Instead, you can come to Conn's HomePlus for financing that gives you the money you need to buy a new laptop or desktop. We work hard to help customers qualify if at all possible, so even if you've been turned down for credit elsewhere, it's worth talking to us.

Features of our Conn's HomePlus Financing program include:
0% interest for 12 months on select purchases
Prequalify for $5,000 instantly*
Financing from a company committed to helping you, if at all possible
How You Can Qualify for Our Conn's HomePlus Financing
When you're ready to get a computer through financing at Conn's HomePlus, all you have to do is complete our online application. We provide exclusive in-store financing so that you can get financing immediately and walk away with your new computer. Join the 5 million customers who have already found financing through Conn's! Contact us today.
PREQUALIFY NOW
*Online prequalification only. Subject to credit approval