Houston, TX | January 2020
Conn's Cares partnered with former Houston Texan, All-Pro Wide Reciever DeAndre Hopkins, and his mother, CEO and Founder of S.M.O.O.O.T.H., Sabrina Greenlee to support The Women's Home – a local non-profit supporting women and families across Houston who have faced homelessness, mental illness, and addiction. Together, Conn's HomePlus, DeAndre and Sabrina donated more than $45,000 in new furniture and appliances to enhance the residence's safe spaces.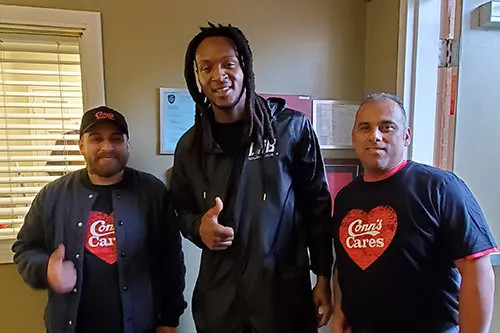 The Women's Home mission is to build communities that strengthen women and support families as they reclaim their stability. Eighty five percent of the residents have suffered trauma of abuse. The Conn's HomePlus contribution replaced outdated appliances and furniture, providing 52 new Serta Simmons mattresses, outfitting each resident with a new bed and upgrading the transitional housing program to ensure residents continue their journey to stability in a more comfortable and enjoyable space.