In the summer, it is important to be prepared for some of the hottest days this year with a nice cool air conditioner. Whether you are looking to replace an old window unit or looking to install a through-the-wall AC, Conn's HomePlus can help you find what you are looking for. However, before making your next air conditioner purchase, find out which one is best for you using this AC buying guide.
Types of AC Units
All air conditioners are not the same, and they have changed over the years – with newer technology, they don't use as much energy, remove humidity from the air, and still give you relief from hot temperatures.
If you are in the market to buy a new air conditioner, you should research to understand what advantages each could give your home. Let's go over the different types of AC units.
Window Air Conditioners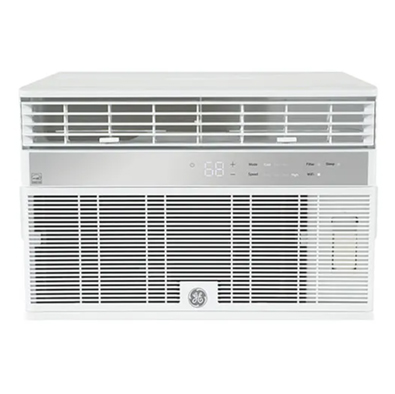 A window air conditioner is available in many sizes and cooling abilities. A window AC can be used as your primary cooling, or you can use it in combination with your central AC. There are some things to consider before purchasing a window unit, such as the size and measurements to ensure it will fit your window and the type of electrical outlet to ensure it is compatible with your new AC unit.
Consider whether you need a fixed or a slide-out chassis. The chassis is the support frame, and a slide-out chassis enables wall or window installation, whereas a fixed chassis is only installed in the window.
Advantages of a window air conditioner:
• Extra floor space
• Easy installation
• Remote and timer control
• Smart connectivity
Things to consider:
Remember that most window ac units require support brackets, which can take up the entire window space. Your window will not be used for anything other than housing the ac unit. Another thing to consider is that once installed, you are limited to that one room, unless you uninstall and reinstall into a different room later.
Enhance your home environment and comfort with this GE® Electronic Room Air Conditioner. Featuring 10,000 BTUs and an electronic digital thermostat with a remote for added convenience to keep you cool and comfortable. This ac unit can quickly cool a room up to 450 sq. ft and provide dehumidification up to 2. 7 pints per hour.
Shop Conn's HomePlus window ac units and get pre-qualified with Yes Money Credit today!
Portable Air Conditioners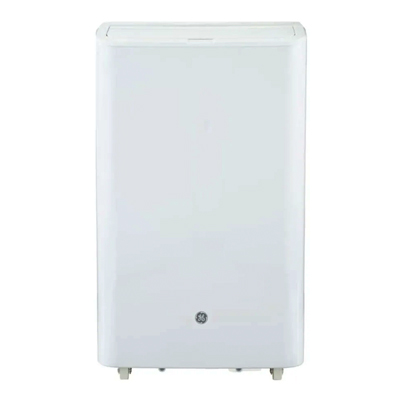 A portable air conditioner allows you more flexibility than a window or an in-the-wall unit because there is no installation needed, and you can move this ac from room to room. If you want to transport the portable ac often, ensure you find a model with casters since these units can be heavy.
A portable ac can provide the right cooling solutions for most rooms of any size. The GE 11,000 BTU Portable Air Conditioner is designed to provide exceptional comfort with quiet operation, 3-in-1 functionality with built-in air conditioning, three fan speeds, and dehumidifying capabilities to provide ultimate flexibility and convenience. This unit has wheels making it easy to move from room to room.
Advantages of Portable Air Conditioners:
• Easy set up and doesn't require permanent installation
• Perfect for small to medium rooms
• Can be moved from room to room
• Casters for easy movement
• Timer
• Remote control
• Smart connectivity
• Auto evaporation - no need to drain
• Auto-restart
Things to consider:
Depending on the size of the portable air conditioner, they can be heavy and take up needed floor space. Some models require a vent hose.
Through-the-Wall Air Conditioners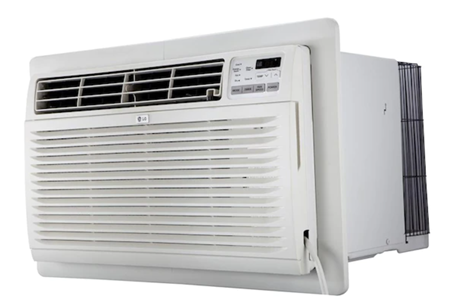 Through-the-wall air conditioners are similar to window ac units, and they remove and exhaust heat and humidity from your room to the outside. The difference is instead of sitting in the window; these units are installed into your wall with a metal sleeve to support the weight of the air conditioner. You may need a professional to help ins tall this unit or make the wall opening.
Advantages of a through-the-wall air conditioner:
• Higher cooling capacities than window units
• Allows for extra window space
• Allows for extra floor space
• Easy to install once the hole is made
• Remote control
• Timer
• Smart connectivity
• Some models include a heater
Things to consider:
Keep in mind that a hole will need to be made for the installation and should be done by a professional. Once installed, this unit is more difficult to reinstall and weighs more than typical window units.
Features to look for when shopping for an AC unit
Wi-Fi Capability
While this is not a deal breaker for most, having the ability to connect to smart electronics allows for better control.
Remote or App Control
Like the Wi-Fi capability, having control to turn on and adjust the settings with an app or a remote gives peace of mind and convienience.
Energy Savings
Energy Efficiency Ratings (EERs) indicate how much energy a device needs to provide a specific amount of cooling. Lower relative energy use is the direct result of a higher EER. Although units with a high EER are typically more expensive up front, they can cost you less in the long term because they use less energy. To determine if a high-efficiency unit is the best option, compare the price increase of more efficient versions to the possible savings on your energy bill.
Look for air conditioners with the ENERGY STAR rating to save energy costs. These air conditioners adhere to stringent energy efficiency standards established by the US Department of Energy and the US Environmental Protection Agency. They are more energy-efficient than non-certified to help you save money.
Noise Control
Some models can be adjusted to reduce noise.
Temperature Sensor
Many ac units can reduce energy consumption based on the activity in the room
How to Figure AC Square Footage
British Thermal Units (BTUs) measure the heat an AC unit can remove from the air over a certain time. The higher the number, the better the cooling capacity. However, bigger is not always better. To cool a room, you will need to match the BTU of the air conditioner to the dimension of the room.
An air conditioner that is underpowered will not cool a large room properly. Also, if the BTU is too high (cools the room too quickly), this can leave the room feeling cool and clammy because the unit cannot remove the humidity in the air.
When determining the best BTU rating, you need to know the room's square feet, including the ceiling height, window size, and doorway size. You will also need to consider if the room gets a lot of sun or is in an area with extra heat from cooking and appliances.
Below is a chart to help you find the best BTU capacity for your room.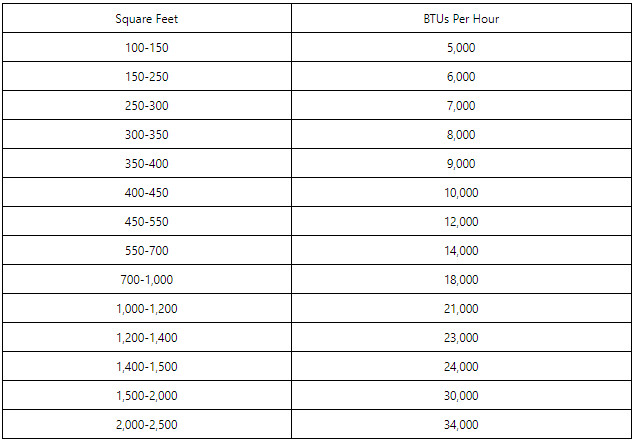 Shop Conn's HomePlus
Shop a variety of air conditioners at Conn's HomePlus in-store or online. You can find a store near you using our Store Locator Tool. Don't let past credit worry you. At Conn's HomePlus, we offer various financing options, even those with less than perfect credit. Visit our financing options, get prequalified in minutes*, and shop for your next air conditioner purchase.
* Subject to credit approval
Air Conditioner FAQ
Do window AC units fit all windows?
Most window units are made to fit inside a standard double-hung window. However, some window unit models can still be installed in a custom-made wall space with special mounting hardware.
Can I leave my window unit installed during the winter?
Each window unit model is different – so it is recommended that you check the owner's manual to determine if the unit can sustain low temperatures. Some air conditioners have a dual heat function –this unit must stay installed to add supplemental heating during the winter. If you intend to leave the unit in the window during the winter, ensure you take specific measures to prevent moisture from getting in the unit by covering it up.
Do all portable air conditioners need to be vented out a window?
A portable AC unit is like a self-contained heat pump – it collects heat from your room and sends it out through the exhaust vent. That said, portable AC units do not always need to be vented out a window if you can find another way to send the heat outside.
How does a through-the-wall AC unit drain?
If there is a lot of water, it will drain the lower back edge of the unit onto the ground.