TV Buying Guide: OLED TVs, LED TVs & More

TV BUYING GUIDE
Low Payment Finder
Good credit or building it. We'll work with you to Make it Happen. Apply Now
NEXT DAY DELIVERY
Our pros will bring your new merchandise and even haul away* your old item. More Info
*Haul-away excludes furniture and mattresses.
Finding the best TV for your needs can be both challenging and confusing with the constant changes in technology, but at Conn's HomePlus we want you to be able to make the most informed buying decision to get the technology you want at the price you deserve.
Use our buying guide to make a decision about the best type, size and resolution that will fit your space and your needs — we have something for everyone, whether online or in your nearest Conn's HomePlus store.
As you start your television buying journey, here are some considerations to keep in mind:
How will the placement of your TV influence size?
How far will viewers be from the TV while watching?
Do you need specific resolution for watching sports?
What is the lighting like in the room where the TV will be placed?
Do you want to browse the internet on your TV?
All of these questions will help you to make the best choice for your lifestyle and your budget, and if you still aren't sure which TV is best for you, our in-store team is standing by ready to help you with your decision!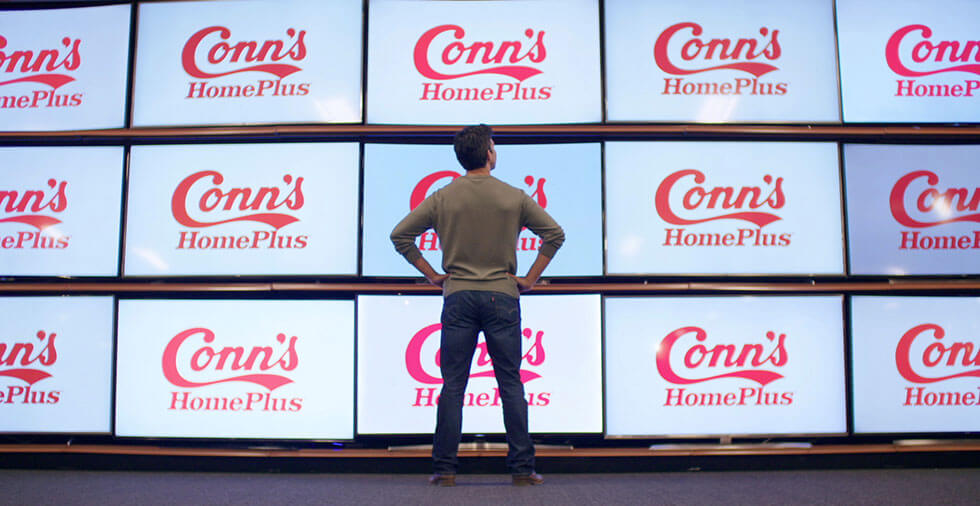 Types of TVs
Top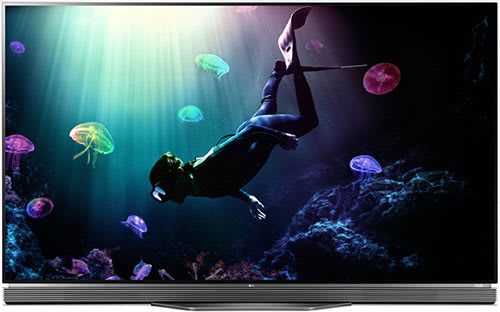 OLED TVs
Organic Light Emitting Diode TVs contain pixels which deliver the largest color range available in the market. Every pixel is individually illuminated, allowing for true black and a wider range of vivid colors. No other TV technology can produce the true black that OLED TVs can. OLED TV pictures are virtually blur-free and provide wide viewing angles. They're perfect for watching things like sports, action movies and other fast-moving footage. With super slim profiles, OLED TVs are lightweight and energy efficient.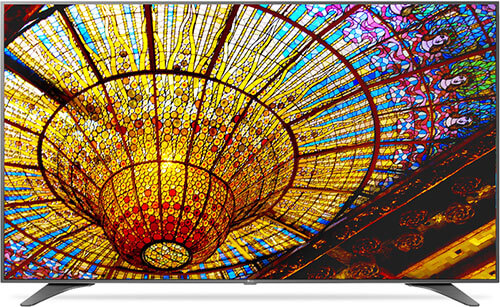 LED TVs
Light Emitting Diode TVs offer outstanding picture quality and work well in virtually any lighting conditions, even very bright rooms. With extremely thin profiles, LED TVs can fit into most any space, without taking over your room's décor.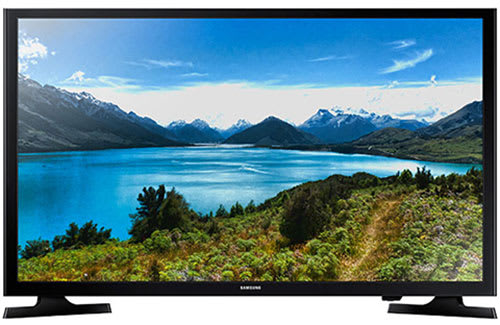 LCD TVs
Liquid Crystal Display TVs are an excellent choice for most viewing needs, especially in brighter rooms. LCD TVs are known for their vivid colors and superior HD performance. They have a slim profile and are generally quite affordable.
TV Screen Sizes
Top
There are no hard and fast rules when it comes to choosing a screen size. It depends on room size, viewing distance, budget and TV watching habits. And with all the different TV technologies available, resolution can vary dramatically. So sitting five feet away might be fine with one TV, but way too close with another.
These general guidelines, combined with your personal preferences, room size and TV quality, can help narrow down your choices.
| | | |
| --- | --- | --- |
| Screen Size (Inches) | Minimum Viewing Distance (Feet) | Maximum Viewing Distance (Feet) |
| 28-32 | 3.5 | 8 |
| 33-40 | 4.5 | 10 |
| 42-49 | 5 | 12 |
| 50-55 | 6 | 14 |
| 56-60+ | 7 | 15 |
One of the most important things to do before you go TV shopping is to measure the width and height of the space where you'll be putting the TV. It might sound obvious, but you'd be surprised how many people don't do this!
When you're staring at that giant wall of TVs in the store, it can be very difficult to tell what size you really need. Keep in mind that with TVs, bigger is usually better. Almost nobody wishes they'd gotten a smaller TV!
Small TVs
32" and smaller
Small TVs are ideal for smaller rooms and are usually not the primary TV in the home. Smaller TVs are a good choice for kids' bedrooms, guest rooms, dorms, kitchens and other casual viewing areas.
Medium TVs
33"-50"
Mid-sized models are great for the bedroom, smaller living rooms or anywhere you don't want the TV to overpower the room.
Large TVs
51"-64"
When we go to the movies, we want to get lost in the picture. Large TVs can create that movie experience at home, drawing you into the action.
Extra Large TVs
65" and bigger
When you want to get completely immersed in the story or the game, these are the TVs for you. If you've got the space, a big screen TV gives you an unsurpassed viewing experience.
TV Resolution
Top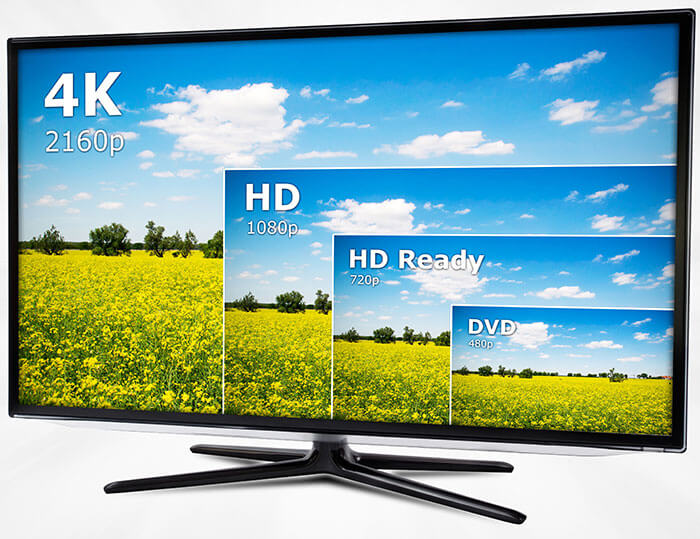 The screen resolution (or definition) is based on the number of pixels used to create the picture. The more pixels you have, the clearer and more detailed your picture will be. For example, high definition (1080p) TVs are 1920 pixels in width by 1080 pixels in height. That's more than 2 million pixels! Of course, while 1080p is still today's standard, many TVs are now offering Ultra High Definition (UHD) with more than 8 million pixels!
4K TVs
Delivering up to four times the resolution of 1080p TVs, 4K TVs provide truly breathtaking picture quality. Also known as Ultra High Definition or Ultra HD TVs, these state-of-the-art TVs offer resolution of 3,840 x 2,160 pixels. If you're concerned that you won't have enough ultra HD content to watch on your 4K TV, keep in mind that more and more content is being created in 4K. Additionally, these TVs are programmed to recognize the format of whatever you're watching (be it live TV, streaming content or a DVD or Blu-ray) and upscale the signal to properly fit the available pixels.
HDR TVs
HDR stands for High Dynamic Range and gives you a more "dynamic" picture, which is where the name comes from. HDR TVs display a wider and richer range of colors, much brighter whites, and much deeper, darker blacks. This allows for more natural, true-to-life colors that are closer to how we see them in real life.
Full HD TVs
This is the standard for most TVs manufactured today. A full HD TV gives you crisp resolution and brilliant colors, allowing you to view virtually all content (movies, TV shows, sporting events, etc.) at its intended level of detail.
HD TVs (720p)
Generally found in smaller TVs, 720p resolution translates to 1280 pixels in width by 720 pixels in height. You get a quality picture at an affordable price.
Refresh Rate
Top

What is a refresh rate, anyway? The refresh rate is how often the picture rebuilds itself or is "refreshed." The more often it's refreshed, the smoother and less blurry the picture will be. Refresh rates are measured in hertz (Hz). So if a TV offers a 240Hz refresh rate, that means it will rebuild the picture 240 times per second. That's a smooth picture!
A 60Hz TV rebuilds the picture 60 times per second and provides good clarity for most programming. A 120Hz TV picture gets rebuilt 120 times per second, so the resolution is quite crisp. A 240Hz TV rebuilds the picture 240 times per second, so it provides the smoothest picture available. The higher the refresh rate, the better-suited the TV is for watching sports and action movies, and playing games.
Advanced TVs
Top
Smart TVs
A smart TV is a TV/computer hybrid that gives you the ultimate interactive viewing experience. With int smart TVs can connect directly to your home network, allowing you to stream movies, shows, videos and music. Many of these TVs also let you surf the web right on your TV, and you can share content with your tablet or smartphone to watch content whenever and wherever you want. They'll even give you recommendations for movies and TV shows.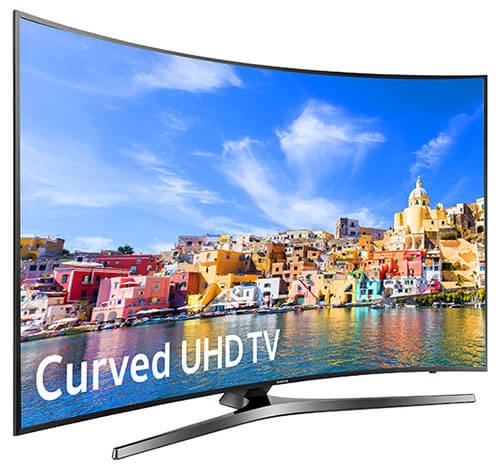 Curved TVs
Want to get completely caught up in a show? Then you want a TV that wraps the show around you! Curved TVs are just what they sound like: the screens are curved to provide the most immersive home viewing experience possible from multiple angles. The action takes place both in front of you and in your peripheral vision, so you get a wider field of view, your sense of depth is enhanced and everything feels more dimensional.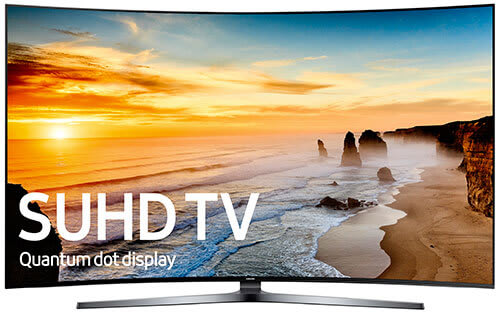 Super Ultra High Definition TVs
SUHD TVs are premium models that combine all the latest and greatest innovations for an unprecedented viewing experience. These 4K Ultra High Definition TVs feature dazzling, cinema-quality color and clarity-up to a billion color combinations! They also offer curved screens and HDR (High Dynamic Range) for truly lifelike color and depth, and to top it all off, these are smart TVs so they're Internet enabled.
TV Accessories
Top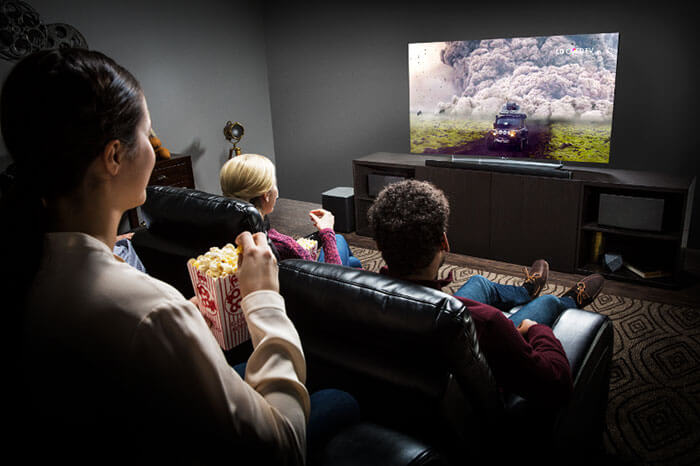 Home Theater
Essentially, if you've got a TV, you've got a home theater. But your TV is really just the starting point of a theater experience. Home theaters usually require a few add-ons to be truly "cinematic." For awesome sound, you'll want a good audio receiver and a sound bar or speakers. Next, you'll need a Blu-ray or DVD player. The right cables are going to be key to hooking it all together. Finally, you'll want to house it all in an entertainment center worthy of your home theater masterpiece.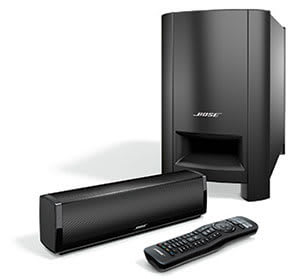 Sound Bars
Once you've invested in a high definition TV with all the bells and whistles, why settle for so-so sound coming out of the built-in speakers? A sound bar delivers high-quality, stereo sound from one thin, sleek bar that can be mounted or placed right under your TV.

Blu-ray Players
Blu-ray discs might look like DVDs, but they're quite different. Blu-ray technology was designed for high definition TVs and delivers five times the information of DVDs, along with superior picture and sound quality. You'll need an HD TV to use with a Blu-ray player, ideally with at least 1080p resolution.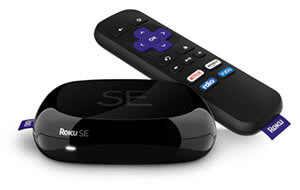 Streaming Media Players
It's never been easier to get entertainment on demand. Dedicated streaming media players connect directly to your HD TV and provide access to thousands of TV episodes, movies and more, allowing you to connect to a world of entertainment through apps like Amazon Video, Netflix and Hulu.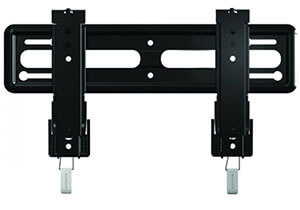 TV Wall Mounts
Of course you can just place your TV on a cabinet or TV stand. But with today's slim profile TVs, TV wall mounts are often a safer, sleeker and more space efficient solution. Wall mounts vary from fixed to flexible so you can tilt them up or down and swivel them around.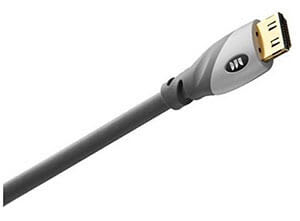 HDMI Cables
Cables carry all the audio and video information to your TV, so it's a good idea to invest in quality cables. HDMI cables carry both picture and sound and are the best connection for HDMI-ready TVs, Blu-ray players, A/V receivers, gaming consoles and more. Be sure to choose a high-speed cable for the best quality.
TV Financing
Top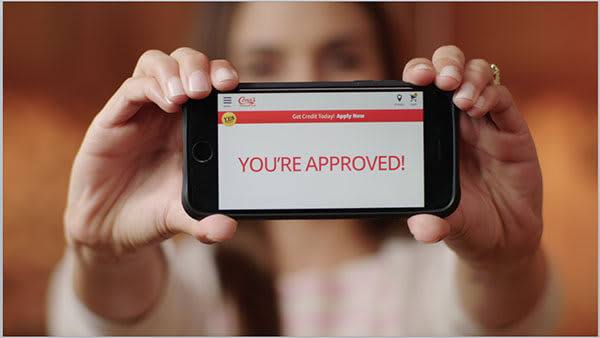 It's our mission at Conn's HomePlus to make it possible for everyone to purchase quality, long- lasting products for their home. If you spend a lot of time gathered with family and friends in the living room enjoying your favorite movies, shows, concerts and sporting events, it's worth it to invest in a fantastic TV.
Get our Lowest Payment tailored to You!* Good credit or building it. We'll work with you to Make it Happen. Apply Now.
*Subject to credit approval. Your low monthly payment may not be least expensive option. Rules apply.