Financial Goal Setting – 9 Tips for Reaching Common Financial Goals

REACH YOUR FINANCIAL GOALS WITH A SOLID PLAN
Everybody has financial goals, from short-term wants like a new car to long-term objectives like a retirement nest egg. Those who have a clear financial management plan in place are much more likely to make their dreams a reality than those who just hope for the best.
Here are some common financial goals most people have at some point in their lives, and tips for reaching them. Do you share any of these goals?
Pay off student loans. Don't let student loan debt hang over your head for years and years, accumulating interest. Pay off your students loans as quickly as possible so you can start saving for the future.
Get out of all debt. This is a goal everyone should have. It's okay to use credit cards or take out loans once in a while, but make sure you pay them off as quickly as possible.
Have an emergency fund. You can't always control or anticipate what life will bring. People get laid off, they get sick, they have other unexpected emergencies. Ideally, you'll have living expenses for three to six months set aside in emergency savings.
Save for a new car. The bigger the down payment, the less principal you'll be paying interest on. So save as much as you can before heading to the dealership!
Plan a wedding. Unless you're lucky enough to have wealthy, generous relatives, a big, extravagant wedding can set back your finances for years. So plan a lovely wedding that you and your future spouse can afford, and start saving for more lasting investments.
Buy a house. This is the biggest purchase most people will ever make. The more you can save for a down payment, the less you'll finance and the less interest you'll pay, which can save you thousands of dollars over the course of a mortgage.
Build your credit. Building credit helps you secure better rates and more flexible financing options in the future.
Start a college fund. The sooner you can start contributing to a college fund, the less he or she will have to pay for higher education. You're investing in your child's future!
Save for retirement. Just as you should invest in your child's future, you should also invest in your own! And as with all savings goals, the sooner you start retirement planning, the more money you'll have when you retire.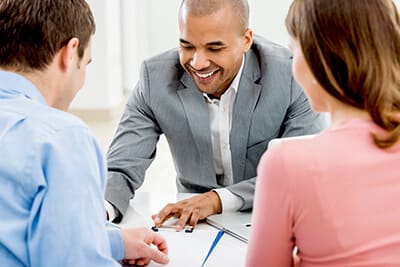 You've set your goals – now make a plan
Financial goal setting is the easy part—now you've got to pay for the weekly things you want and need while still saving for your larger goals. You can use all sorts of tricks and tips for saving money.
Learn how to make a budget, get smart shopping tips, and get ideas for ways to save money by cutting back on unnecessary expenses and making smart investments. Even relatively small adjustments to your spending and saving habits can make a big difference to your long-term financial goals.