Rent-To-Own Refrigerators
No kitchen is complete without a refrigerator to extend the life of ingredients, house leftovers and keep produce crisp. When your fridge breaks down or you're ready to upgrade, you might think a rent-to-own refrigerator is the way to go. However, just because you lack the immediate cash to purchase a new appliance doesn't mean you have to choose a rent-to-own fridge.
With Conn's HomePlus, there is a better option: You can try what we call our Conn's HomePlus Financing program and find financing, even if you've been turned down elsewhere. That's because we work hard to help customers like you get the financing they need to get the fridges they want, right away.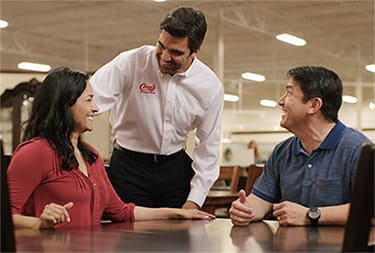 Types of Refrigerators Available at Conn's HomePlus
Whether you're interested in a French door refrigerator, a side-by-side or a mini fridge, Conn's HomePlus has you covered. Our large selection of name-brand refrigerators includes:
A Better Way to Get the Fridge You Desire
Rent-to-own refrigerator programs can get confusing, fast. It can be tough to know what to buy, when to buy it and whether or not you need credit to go with rent-to-own appliances. This is why coming to Conn's HomePlus for more effective financing is the better option. You could be approved for financing whether you have good credit or you're building credit. Through our Conn's HomePlus Financing program, we get you the financing you need when you need it.
Some of the benefits of our Conn's HomePlus Financing program include:
A way to get new merchandise from top brands
Possible approval instantly*
Potential to qualify for $5,000
0% interest for 12 months on some purchases
Low monthly payments you can afford
Financing, even if you've been turned down elsewhere
Knowing we're committed to getting you financing if at all possible
Conn's HomePlus Financing – An Alternative To Rent-To-Own Refrigerators
Are you ready to qualify for the convenient appliance financing we offer at Conn's so you can get your new fridge? All it takes is a few minutes of your time to get qualified and have exclusive in-store refrigerator financing to find your fridge. Come join the 5 million other customers who have already been approved through Conn's HomePlus Financing — Get started today to get an answer instantly!*
PREQUALIFY NOW
*Online prequalification only. Subject to credit approval