Rent-To-Own Mattresses
A quality mattress is an essential in the bedroom — so when you move, expand household size or need to replace a mattress, you don't want to have to wait to buy one. That's why, when you're looking into ways to get a new mattress right away, you need to know your options. You might run across the option to get a rent-to-own mattress, a rental in which you pay down toward owning the product.
While at first this may seem like a good idea, there's a better way: Instead of rent-to-own mattresses, come to Conn's HomePlus for financing that empowers you to buy a new mattress! We work with customers in different financial situations to do everything we can to find financing. Even if you've been denied elsewhere, we can help you avoid having to rent a mattress by getting you an effective financing for your purchase.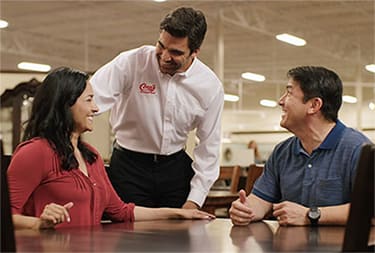 Types of Mattresses Available Through Conn's
Whether you want a Serta iComfort mattress or a Simmons Beautyrest mattress set, Conn's HomePlus has you covered. Our catalog includes a wide range of quality mattresses made to set you up with a good night's rest. Some of the mattresses we offer include:
Soft, medium and firm mattresses
King and queen mattresses
Specialty memory foam mattresses
Mattresses from top brands Serta and Simmons Beautyrest
Alternative To Rent-To-Own Matresses
Before signing up for a mattress rental, give Conn's HomePlus the chance to get you the mattress you need. Unlike rent-to-own mattress sets that are notoriously confusing to obtain, Conn's Conn's HomePlus Financing Program is quick, so you can buy a new mattress the same day. It's possible to qualify for $5,000 instantly!*
Some of the biggest perks of choosing to use our financing to buy a mattress instead of going with a rent-to-own king-size mattress program are:
0% interest for 12 months on select purchases
Prequalification for $5,000 in minutes
Affordable monthly payments
Flexible payment options: online, by phone, by mail or in store
If you're ready to join the more than 5 million people we've already said yes to with our program, contact us today. It only takes a few minutes to complete our prequalification for mattresses financing and can make all the difference in completing your home.
PREQUALIFY NOW
*Online prequalification only. Subject to credit approval.