Your Alternative To Rent-To-Own Laptops

Rent-To-Own Laptops
In today's society, it's difficult to thrive without Internet access. Whether you're applying for a job, researching places to live or hunting for the best prices on something you need to buy, it all becomes easier with a computer. That's why, when you are shopping for laptops, you'll want to know that there are more options for getting computers in a hurry than just choosing rent-to-own laptops.
While it's true there are rent-to-own laptops and no credit check required, it's also true that rent-to-own programs are notoriously confusing. Browsing through the rules and limitations can be overwhelming and frustrating — but it's not your only option! With Conn's, you can qualify for financing in a hurry, even if you are building your credit and even if you've been turned down elsewhere.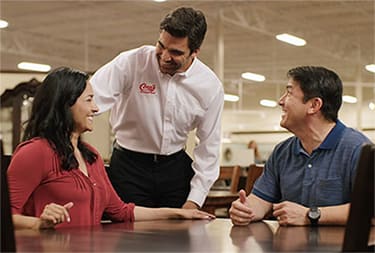 A Better Solution Than Rent-to-Own Laptops
Before you settle for rent-to-own laptops, consider the possibility of obtaining financing through Conn's! We make it possible to get the financing you need so you can buy the laptop you're looking at, whether it's a Dell or a Hewlett-Packard in our catalog. By partnering with us, you can have that laptop right away, without any of the hassles or stress of navigating a rent-to-own program.
Consider some of the perks of our Conn's HomePlus Financing program at Conn's:
Financing for up to $5,000
0% interest for the first 12 months available
A team of professionals committed to helping you get financed
Laptops We Offer at Conn's HomePlus
Shop our selection of computers to learn more about the various types and models of laptops we carry at Conn's HomePlus. Whether you're interested in a 15.6-inch Dell or a 17.3-inch HP, we've got you covered. Our line of laptops includes various HP and Dell models.
Qualify for Your Conn's HomePlus Financing
Ready to learn more about buying a laptop with the financing we have at Conn's? You can skip rent-to-own laptops entirely by working with us to achieve in-store financing catered to you instead. No matter what your financial history or credit score, we're here to do everything possible to get you financing. Browse our computers to find the right laptop for you, and talk to us about getting the funds you need to buy it right away. Contact us today to learn more.
PREQUALIFY NOW
*Subject to credit approval