Rent-To-Own Freezers
There's nothing like an at-home freezer to extend the life of your kitchen ingredients — but when you can't afford to purchase a new freezer, what should you do? Whether you need more food storage for a large household or just want the luxury of keeping extra ingredients on hand, a rent-to-own freezer isn't your only option. Anytime you want a new freezer, need to replace one that just broke, or are ready to upgrade, Conn's HomePlus is here to help.
Especially if you don't have the upfront funds to buy a freezer outright today, you have a welcome solution in our financing program. Through our unique Conn's HomePlus Financing program, you may be able to find financing — even if you've been turned down elsewhere. Our company works with customers at all credit levels to do everything we can to get you financed — so we help you buy the freezer you need, right when you need it.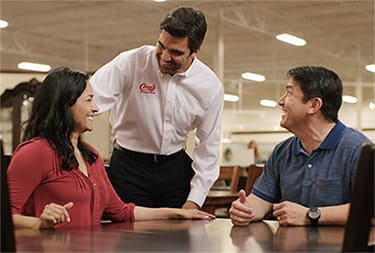 Types of Freezers We Have Available
Conn's HomePlus offers a large selection of freezers, in various styles and sizes, to equip you with the freezer space you need. Take your pick of possibilities offered in our catalog, including:
Get the Freezer You Want Today
The problem with choosing a rent-to-own freezer is how confusing the process can be. Rent-to-own programs are notoriously complicated, which is why it can be hard to know what to pick. With the Conn's HomePlus Financing program from Conn's HomePlus, however, you skip all those headaches for a better, faster financing solution. When you apply for our program, you could be approved for financing whether you have good credit, bad credit or no credit.* You don't have to wait for months to find out if you qualify; simply apply online and get an answer instantly. We do everything we can to get you the freezer financing you need.
Some of the benefits of our Conn's HomePlus Financing program include:
Top-quality freezer selection
Easy online application
You can get an answer instantly
Potential to qualify for $5,000
0 percent interest for 12 months available on some purchases
Low monthly payments
Apply for Conn's HomePlus Financing — the Better Way to Buy a Freezer
When you're in the market for a new freezer, the convenient freezer financing we offer is your best solution. Take a few minutes to apply, and you can get an answer instantly. Join the 5 million customers who are taking advantage of Conn's HomePlus Financing. Apply today and be well on your way to the freezer you want!
APPLY FOR MY Conn's HomePlus Financing
*Subject to credit approval