Your Alternative To Rent-To-Own Bedroom Furniture

Rent-To-Own Bedroom Furniture
No bedroom is complete without the furniture — but when money is tight, what can you do to furnish your spaces in a hurry? Before you start thinking rent-to-own bedroom furniture is your only option, consider the possibility of obtaining furniture financing from Conn's HomePlus! At Conn's HomePlus, we specialize in providing an effective financing for our customers.
Even if you've been turned down elsewhere, we may be able to qualify you for as much as $5,000 instantly!* This means that instead of experiencing the confusion and hassle of going with rent-to-own bedroom furniture sets, you can enjoy a convenient purchasing process. At Conn's HomePlus, we make it convenient to get qualified to buy the bedroom furniture you want — all through a better, more convenient form of furniture financing catered to you.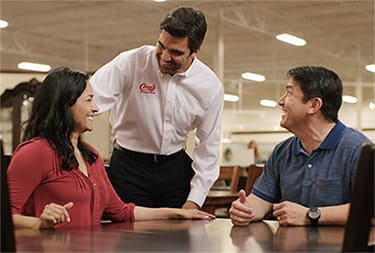 The Better Solution for Getting Bedroom Furniture
When you're shopping rent-to-own bedroom furniture, one thing you'll discover pretty quickly is that the process can be confusing. How do you know where to buy? Which company makes the most sense to go with, and which deal is the best value in the long run? How exactly does the rent-to-own system work? Why not save yourself all of these hassles and choose instead to buy your own furniture through Conn's? The better solution for getting bedroom furniture when you need it, Conn's HomePlus prides itself on the Conn's HomePlus Financing financing option.
Here are a few of the highlights of our Conn's HomePlus Financing program:
Get an approval for up to $5,000 — instantly*
Access to the possibility of 0% interest for 12 months
A committed team of experts on your side, doing everything possible to get you financed
Bedroom Furnishings We Offer
From the new bed that you'll love to fall into each night to the dressers that will organize your clothes, your new bedroom suite of furniture awaits at Conn's HomePlus. Visit our bedroom furniture page to see more of what we offer, including:
Master bedroom sets
Kids bedroom sets
Beds in various sizes, including bunk beds
Dressers
Mirrors
Qualify for Your Conn's HomePlus Financing
When you're ready to outfit a bedroom, skip the rent-to-own bedroom furniture sets and talk to us at Conn's HomePlus instead. We offer a variety of different bedroom sets, and you can apply for our bedroom furniture financing anytime. Through our exclusive in-store financing, you are able to get the bedroom you want, when you want it, and in many cases we'll be able to help regardless of what your credit score or financial history looks like. Come join the 5 million other customers we've already said YES to — Start today!
PREQUALIFY NOW
*Online prequalification only. Subject to credit approval