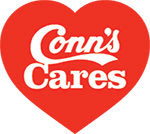 Bastion Community of Resilience
New Orleans, LA | December 2019
Conn's Cares partnered with the Bastion Community of Resilience in 2019 – an intentional community for military veterans in New Orleans – to make a surprise donation of more than $22,000 in new furniture and three 55-inch Samsung televisions to three deserving families. A fourth 65-inch Samsung television was raffled off to the community as an element of engagement and to build awareness of the incredible work the Bastion does in the New Orleans community each year.
"Conn's HomePlus holds our veterans in high esteem, and we are so grateful for their service," said Norm Miller, CEO of Conn's HomePlus at the time of the donation. "We wanted to show our support for these families as they work toward recovery with a donation to bring extra comfort and joy to them this holiday season."
With the mission to support returning warriors and families through their transition from military service and beyond, Bastion Community of Resilience provides a healing environment within an intentionally designed neighborhood. Bastion aims to create an innovative community model that empowers neighbors as volunteers in a warrior's care plan and help lead residents to recovery from the wounds and casualties of war. The Conn's HomePlus contribution will help make the families more comfortable in their homes and complement the aid supplied by Bastion.
"Bastion builds community by fostering the conditions to create meaningful relationships that last a lifetime. This creates layers of social and instrumental support that makes the community a place to heal and grow," said Jeremy Brewer, Program Director at Bastion Community of Resilience at the time of the donation. "With support from organizations like Conn's HomePlus, we can continue to provide care and assistance for the people who put their lives on the line for us."