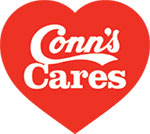 Albaquerque, NM | November 2019
For the third consecutive year, Conn's Cares partnered with the Barrett Foundation, an organization that operates Barrett House – a women's and children's shelter in Albuquerque working to end the experience of homelessness. In 2019, donated items went to enhancing the shelter's community room.
With the mission to provide shelter and supportive services to women and children experiencing homelessness, Barrett House creates an opportunity to set up a safety net to build the stability needed to start a journey toward securing a home for themselves and their children. Our contribution helped make the community room feel more like home to the families who rely on the shelter's services.
"Last year we were able to serve 355 women and children in the shelter," said Melissa Kaminsky, Development Director of Barrett Foundation at the time of the donation. "Thanks to organizations like Conn's HomePlus, we are able to continue making a positive impact on women and children each year."